The Production Process of Frozen Pea Pods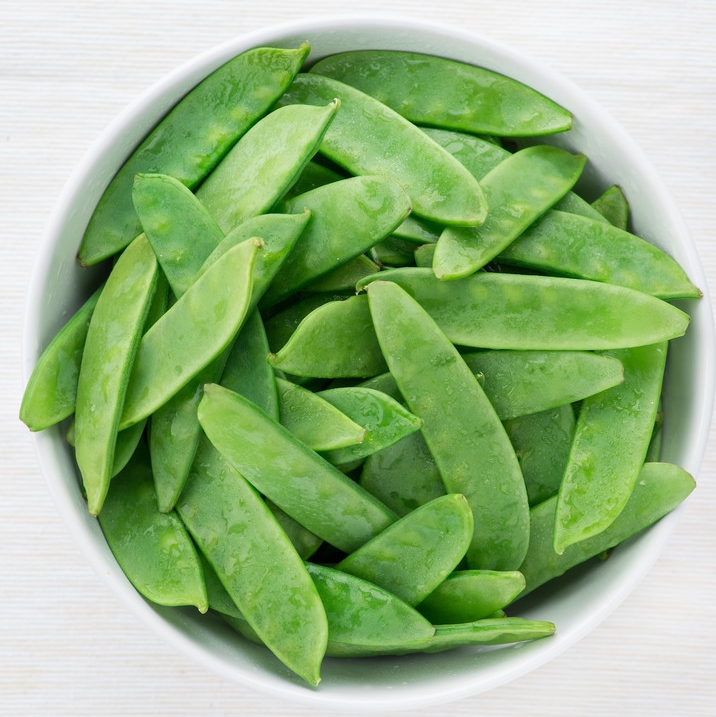 I Raw material cultivation and control
a) Raw materialplanting
Snow peas planting bases are distributed in many areas in China. Large funds have been invested to build several planting bases.The total planting area is more than 1,000 mu.

In order to ensure the safety and stability of raw materials, technicians with rich planting experience and strong technical ability are responsible for selecting excellent varieties and cultivation control in the whole process.

The planting process is strictly controlled the use of drugs and fertilization according to the standards of the exporting country;

Strictly guarantee the growing environment of the crops and cultivate carefully to ensure the products more safe

According to the requirements standardize construction and management, also pass GAP certification
b) Raw material harvesting
In order to ensure that the raw material tastes fresh, Snow Peas are scheduled to harvest every day during the season. The whole harvest process takes 20 days in batches.

The thickness of raw materials is generally 5.5mm. Late harvest, the raw materials will be aging and the coloris not good.

Harvest after dew drying, when the temperature is high, it should be avoided at noon.

Remove the string on Snow peas directly during harvesting, take it lightly, put it in special bag, avoid turning over and damage, collecting in time and heading to the factory for processing, and keep the productfresh.

II Processing technology control
Raw materials → wind selection → Washing with the running water → rinse with flowing water → the flowing bubble pool → the flowing water with rolling brush → the flowing water again → IQF Frozen → Storage under -18 Degree → EX-warehouse and packing → Metal Detector → X-ray Inspection Machine → Boxing → Storage under -18 Degree
Raw material: Raw materials are picking every day to ensure that they are mature, not old, with bright green color, delicious taste, No expansion bean, should be handled gently during harvest and transportation. Do not load too much in the truck, avoid direct sunlight

Air selection: after arriving at the factory, use the air selection machine to remove impurities, and keep size uniform

Washing: Rinse with running water 4 to 5 times to remove dirt etc.

Freezing: Freeze quickly under -30 Degree, then store under -18 Degree in time.

It can be shipped at any time according to customers' request. You can have fresh Snow peas all year around, selecting and packaging, quality controlled by metal detector and X-ray Inspection Machine, to ensure that consumers could get the most assured products.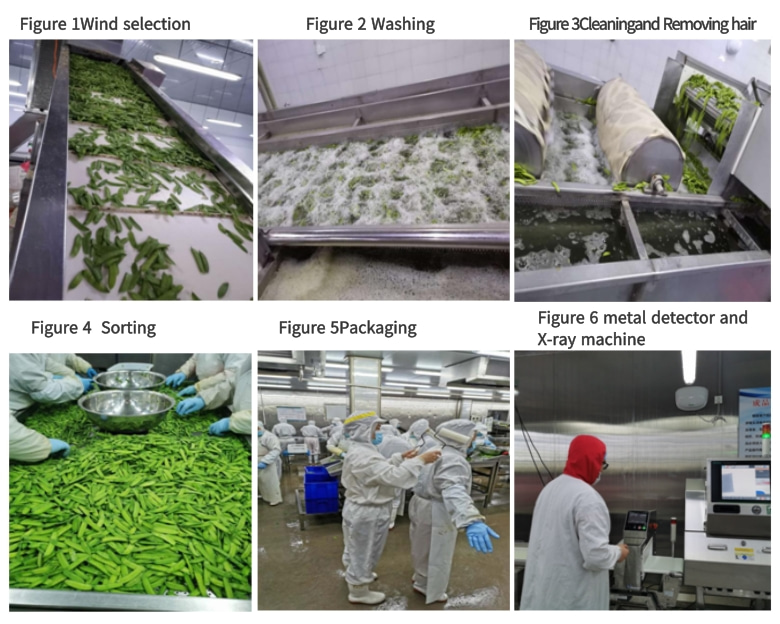 III Quick freezing equipment and quality control
Our factory has advanced processing equipment, to ensure the quality of Snow peas can be well controlled during the production process, with quality assurance:
Fully equipped and long production line, to reach the control point of cleaning, removing impurities and hair control

Advanced color sorter, X-ray Inspection Machine and other equipment to control defective products, insect pests and impurities

The factory has a large processing capacity and processing timely. It can guarantee the freshness of the raw materials

Frozen Snow beans are characterized by fresh, tender, sweet and delicious taste, also with glossiness and bright green color, no spots
IV Laboratory control
The laboratory is spacious and bright, advanced in design and reasonable in layout. With high value of advanced testing equipment, they can carry out the detection of agricultural residues and microorganisms, to meet the internal testing requirements.
The laboratory is equipped with sufficient inspectors; all personnel are trained and certified to meet the needs of inspection work. In order to expand the inspection personnel vision, improve the technical level and work ability, they participate in technical training and technical exchanges irregularly every year. Combined with the actual situation, constantly improve the detection level, to provide customers with the best quality products.